With the holiday season of 2022 in swing, Swift SMS Gateway is looking back with our text message services. It's been a three-year whirlwind. Many say it's melded into one mass event: The COVID-19 Pandemic. Swift is being told by many of our clients that businesses are still impacted by lingering effects of the COVID-19 Post-Pandemic. This is true both commercially and institutionally. Everyone is coming to grips with a new normal, because things are now different.
Unquestionably many businesses and people suffered. Some are continuing to struggle, due to the COVID-19 pandemic.
However, the Telecom sector prospered, and this is certainly true of Swift's text messaging services, as part of that. Swift believes A2P (Application to Person) SMS integration has eased communication challenges during these unprecedented times, because we are told Swift's text messaging service has improved people's critical communication with services and institutions.
Swift's mission is to connect integrators and application developers to global mobile carriers. Swift has succeeded in our goal to only deliver valued and critical text message services.
The Pandemic's Impact On Verticals
Here at Swift SMS Gateway, we saw firsthand a dramatic increase across nearly every vertical we serve. Swift directly invoices over 800 of our clients monthly. Understand that many of those clients are developers and integrators, with clients and verticals under them. So when a trend happens on mass, Swift sees it.
While text integration has long been a cornerstone of mobile strategy in commercial business, institutions and industry, those late to arrive were quick to adopt text integration as a communication strategy. The pandemic gave them no choice and Swift was there to help them.
Without debate, the pandemic threatened livelihoods. COVID-19 was a worldwide public health crisis unseen in our lifetime.
Big Text Vertical Increases at Swift
Restaurants

quickly adopted take out/delivery strategies integrating text message ordering and delivery status updates. This was crucial to their service to survive business shutdowns of eat-in dining.

Retailers

who previously didn't have an on-line presence were left with no choice but to sell on-line, or close their business. Text messaging became the prime channel of communication to customers over phone calls and email, because of speed and simplicity in the absence of face-to-face contact.
Healthcare Staffing became critical to manage the unsurpassed demand on hospital and long-term care staff in all areas including; doctors, nurses, technicians, janitorial and administration. Integration of text message shift alerts has become the prime communication channel to fill shifts easily.
Transport Logistics recognized truckers as critical front line workers. Stressed over goods shortages while delays mounted, they shifted more communication in critical supply chains than ever before to A2P Text, avoiding personal contact wherever possible.
Virtual Appointments became normalized with consultations and group meetings. People worked from home. So to counter distractions that home life placed on families, A2P Text calendar alerts became an essential scheduling tool.
School Alerts had to scale quicker than phone call broadcasts to cope with COVID outbreaks, pivoting between in-class and virtual class attendance from home. So text messaging became integrated into many more school boards, as the pandemic dragged on.
The Credit Crunch followed the record rise in prime rates. It is not only affecting mortgages, but ultimately the consumer debt load in general. The result is being seen in a rise of subsequent payment defaults. Luckily in Canada debt collection has been greatly assisted by the discrete and timely text message. So it gives clients personal updates on their payment status and has improved the collection cycle.
The Pandemic, Habits & Text
The pandemic's impact over the last three years has turned mass short-term adaptive behaviours into habits. These are now ingrained long-term behaviours in its aftermath. A2P text message services use in business and institutions is now the norm, because of the pandemic.
So Who Was Right & Who Had It Wrong?
Early on, predatory investors thought the pandemic would only last months and looked to capitalize on volatility. Unsavvy pundits wrongly assumed text message use would return to pre-pandemic levels. Neither happened.
Epidemiologists understood the timeline of the infection cycle of previous pandemics by studying history. They knew we were in it for the long haul, and Psychologists understood human nature, because they are experts on the effect of long term reinforcement of habit.
Trust a PhD, because they have the highest expertise in their field of study.
Psychologists agree there are three principles of habit formation and behaviour change:
Reminder

– The constant fear of the pandemic and the risk of infection played on people's conscience. This has motivated new behaviors to adapt to it.

Routine

– Habits created around pandemic behaviour such as; working remotely, increased on-line ordering of goods, services and food, and dinner delivery have become normalized.

Reward

– The benefit of a more immediate response is the appeal of all text messaging. As multiple sectors adapted SMS integration into their operations, the ease to do it with simple API integrations has been spurred on by a motivated public stressed over pandemic lockdowns and becoming increasingly reliant on remote mobile communication.
As the pandemic dragged on over three years, the long-term effect of these principles imposed and formed behavioural changes of many habits. This created a new normal. Increased A2P (Application to Person) texting is one such habit that has been affected.
Healthcare Texting Mirrors The Pandemic
Without question, healthcare has been badly affected by the pandemic. Swift concentrated on providing the highest delivery reach possible to mobile carriers, while partnering with experts in healthcare communications. Teamwork was the key to rise to this challenge. New standards have been met to solve complex scheduling and shift management problems. The criticality of the healthcare crisis demanded nothing less.
Swift can illustrate directly the use of A2P text messaging adoption in Canadian healthcare staff management for shift scheduling. This literally mirrors the pandemic itself.
Swift illustrates text's dramatic rise to the pandemic peek of January '22, onwards to a sustained normalization early in the pandemic's decline in the Spring of '22. Then shown is the subsequent rise of text messaging post-pandemic, while hospitals and long-term care facilities faced patient care backlogs. Finally shown is text's continued current status unchanged.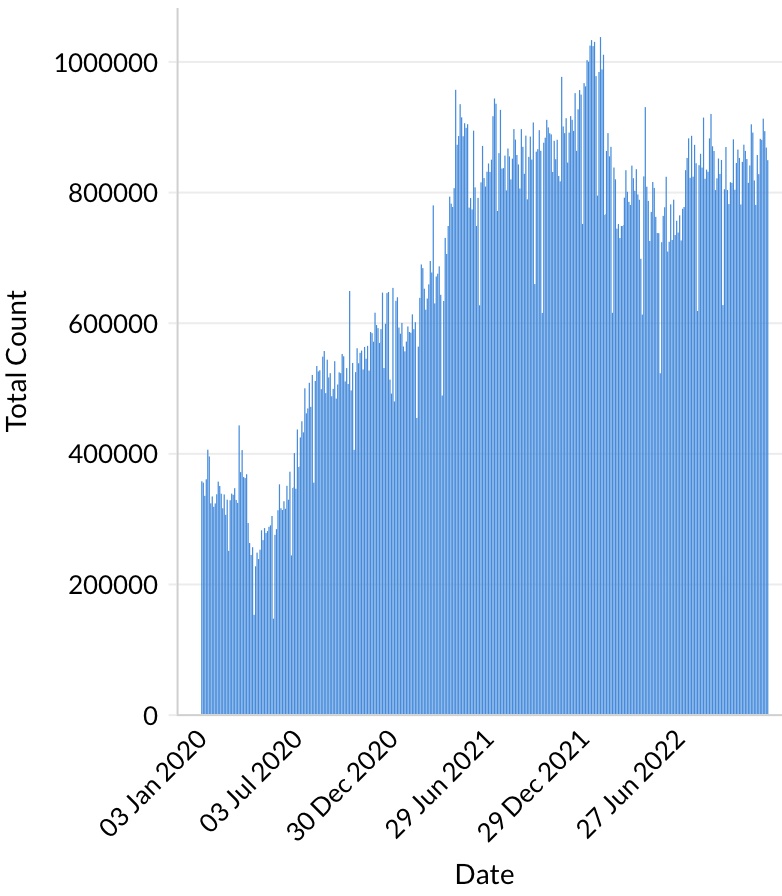 Shown above is the monthly volume of Swift's A2P text message services used in Canadian healthcare shift scheduling from January 2020 when the COVID-19 pandemic started to December of 2022, post-pandemic.
Swift Helped Clients Navigate The Pandemic
Helping clients navigate through the pandemic when they were forced to shut down was the right move for Swift SMS Gateway, but hindsight is always 20/20.
However, we must say early in the pandemic with some businesses shutting down during lockdowns, there was uncertainty. At the start, Swift was approached by some clients. They were fearful and uncertain, asking if they could suspend service payments, but still retain their business phone numbers. Understand with Telcos, you will lose your phone number, when you stop paying your bill. Reacting to this, Swift SMS Gateway stepped up to help.
Swift retained the numbers on these clients behalf and paid when they could not.
So if Swift had not, those clients would have surrendered their business numbers to Telcos, which would only have increased the hardship placed on them over the pandemic. The small token that Swift did only increased loyalties and deepened bonds with these clients. Swift's cost was small, because it was easily offset by a big increase in our A2P Text Message volume overall.
And So This Is Christmas… Text Message Someone Season's Greetings
Swift SMS Gateway wishes everyone Season's Greetings for 2022 and a very Happy New Year! Swift welcomes in 2023. Hopefully we all put the COVID-19 Pandemic firmly in our past. Reach out to Swift here, or give us a call at 1-800-264-7141.