Group Texting for Business!
The Swift SMS approach to group text messaging is here. 
This easy-to-use, pay-as-you-go service is a scalable web-based messaging app that's ideally suited for; internal text messages, associates, marketing campaigns and more.
It's easy to start texting with GREXT™.  Just do this: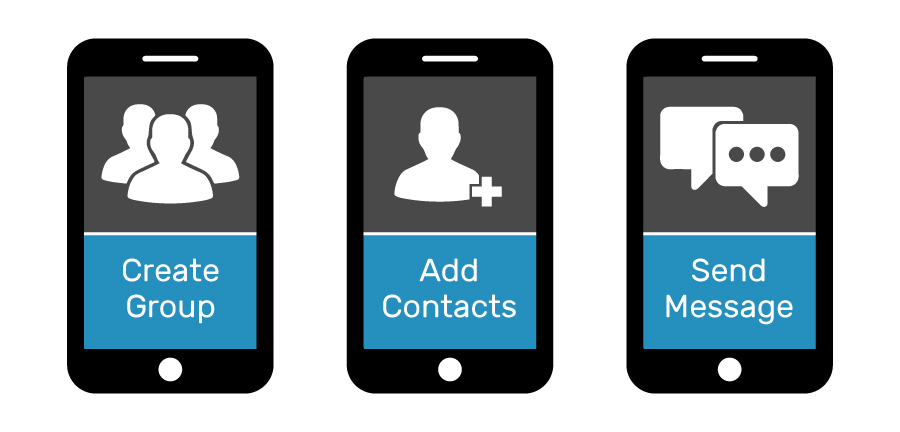 What Can GREXT™ Group Administrators Do?
SMS Text any cell phone, regardless of their carrier anywhere.

Manage your mass texting from a web-based interface. 

Schedule your text messaging deliveries with repeats and reminders.

Create your own custom auto-responders easily.
Best of all, GREXT™ grows with your business messaging needs. Managing volume is easy. 
The top-tier GREXT™ CORP offers Short Code functionality too! 
With GREXT™ there is no computer coding. It is designed to meet the messaging needs of a typical business. Get started and you can create groups, add your contacts and send messages.
| GREXT™  | BENEFIT |
| --- | --- |
| | Create Message Templates |
| | Write Easy Auto-Responders |
| | Automate Message Scheduling |
| | Have Full Reporting Capabilities |
| | Text From Your Business Voice Line |
| | Create Useful Business Reports |
| | Upgrade Easily Even To Short Codes |
| | No SMS API Coding Required |
But What Is Business Text Messaging?
Business text messaging has many uses:
One-time security pass codes and authentication pins

One-on-one customer support

Mass text marketing campaigns using bulk SMS broadcasting

Team communications

 
It is not disputed, many people use over-the-top messaging apps like Facebook Messenger and WhatsApp. They are widely used for chats, but these apps have limited reach despite their global popularity, because not everyone is signed up and using them. 
When universal reach is needed without excuses like; "I don't have that installed, or "I don't use that app", use SMS Text. It is the clear choice.
This is the clear difference in business message communications needs, when reach is essential.
The Benefits Of Using SMS Text For Business Communication
SMS Text messaging offers a useful channel for business communication, because it is fast, found everywhere and can meet professional performance standards. 
SMS Text is universally adopted. It is pre-installed on all mobile cell phones.
This is why SMS Text is seen as being appropriate when reach is essential. Customers, associates and internal recipients alike may be more apt to respond favourably to your message, or emergency company notification when distributed over SMS Text, compared to delivery through any third-party over-the-top messaging app.
What Is a Business Text Messaging Service?
A proper business text messaging service allows private enterprises to deliver quick SMS Text to customers, associates, staff and others efficiently, with tools for managed professional communications and coordinated large group messaging. 
Normal texting, when a message is simply tapped out on your cell phone cannot scale to business.  
The need is to streamline business SMS Text and use stand-alone web apps that do scale to make creating and managing groups simple and intuitive. These messaging service requirements must help administrators; to schedules for their SMS Texts, to deliver at predetermined times and to automate repeating SMS Texts, like reminders delivered at regular intervals.
Group Messaging: The Key To Successful Coordination
Group messaging is a great tool for team-based coordination and collaboration, beyond mobile marketing.
Imagine a time-sensitive situation: Severe weather has forced you to close your office for the day. 
There are two challenges:
How do you inform everybody simultaneously?

How can reach people fast, so they can skip their morning commute?
GREXT™ allows you to instantly contact everybody who needs to see your message. Since you've communicated via SMS Text, you reduce the chance that this important note will get buried in their inbox, or with office-only chat client apps.
These challenges vanish with an SMS Text that you can send effectively on mass in GREXT™. Its power presents a new opportunity for you to interact and collaborate with your colleagues, clients and associates on a timely, high-priority communications channel with management ease.
How Effective Is Texting?
Today, more people text than make phone calls. Strategic texting can be very effective. Text messaging open rates surpass many other communication channels, but text is not be the ideal method for discussing highly nuanced concepts, or engaging in open-ended conversations.
Strategic texting is perfect for delivering simple, direct and timely content. 
For example, Text marketing often emphasizes concise discounts that are available in specific locations for a limited period of time. Text messages may not be the best method for communicating complicated new product offerings to customers, but messages that can be summed up in a few short sentences do well.
Texting is effective, because so many people use it and they check for new messages often.
Most importantly, SMS is a very popular method of communication that does not require access to a third-party messaging app. It has universal reach on every cell phone.
Why a Web-Based Messaging App Could Be The Best Choice
Manual management can be difficult for proper business text requirements. Compliance issues can hinder texting efforts that aren't centralized with professional management tools. The sheer magnitude of business messaging and its complexity typically fail with do it yourself management.  
A web-based messaging app, such as GREXT™ can automate group texting efforts, customer support, internal communications and more. 
This online-enabled texting app allows businesses greater flexibility, control and coordination, while managing group messages. GREXT™ can even maintain the record requirements of larger-scale operations. In addition, this web-based application allows qualified users to remotely manage different functions at their convenience.
Marketing Uses For Web-Based Texting Apps
There are several marketing use cases for web-based texting apps:
Text messaging can be used to redirect traffic to existing social media campaigns on Facebook, Twitter and elsewhere.

Texting can help drive engagement for time-sensitive product promotions and discounts.

SMS messaging may be used to facilitate customer feedback and inform future initiatives.

Apps can be used to automatically update customer opt-out preferences.

Automated messaging can help keep popular brands top-of-mind for consumers.
Virtually all of these ideas are made easier through the use of a web-based app. By allowing companies to automate large sends, track responses and store data, apps can empower businesses to scale their operations in a way that surpasses the capabilities offered by native messaging clients and individually delivered messages. Administrators are able to control campaigns from a centralized location, providing greater reliability throughout the process.
Can Mobile Marketing On SMS Text Attract New Customers To Your Business?
Mobile Marketing is permission based. It must be expected and valued by the recipient with the ability to stop it given to the recipient. When potential customers provide their mobile phone number and opt in to receive messages, you can use this as an opportunity to drive conversions among your prospects. While many text mobile marketing efforts focus on retention and reengagement, customer acquisition is only possible through strategic text messaging that guards against abusive SPAM and follows best practises and adherence to industry guidelines.
Abuse GREXT™ with SPAM and you are violating telecommunication laws. We will shut you down.
Use an incentive to encourage prospects to engage in text messaging with your brand. Users can demonstrate their interest by sending you an SMS containing a specific keyword. Then, by messaging the potential customer with high-value promotions, you may be able to get them to convert and continue to engage with your brand through texting.
The Swift SMS blog contains mobile marketing advice about how to use text apps to drive opt-in rates, while avoiding abuse and more.
The Group Texting App For Business: Learn More About GREXT™ Today
Group texting is an important part of today's businesses communications that does not need to be a challenge. If you're interested in finding out how GREXT™ can provide a scalable solution for your business, contact us to learn more.