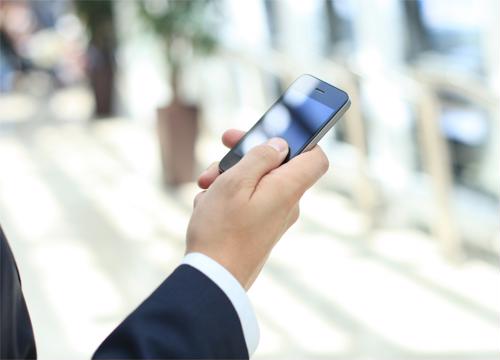 SMS is an ideal solution for mass messaging because of the ubiquity of the technology. Almost every mobile phone is capable of receiving SMS. Plus, it's easy for users to subscribe and unsubscribe as their needs change.
Local, state, provincial and federal governments can leverage SMS to reach their constituents with important information at any time. Here are three ways governments are using SMS:
1. Public Safety Alerts
Local governments can benefit from using SMS alerts to notify residents about public safety concerns. Residents can opt in to the program, and receive notifications about all kinds of events such as fires, police activity and even traffic jams.
Next Steps Marketing reported that New York state's NY-Alert system has leveraged text messaging to great success. In fact, 49 percent of the program's 4.7 million subscribers have opted to receive text messages about major road closures, severe weather and more. The network allows a number of organizations to send alerts, including local universities and government services.
2. Volunteer Opportunities
Community engagement is the bedrock of local government. But with so many distractions competing for everyone's time, it can be a challenge to recruit volunteers for community projects. SMS offers a way for local government organizations to build contact lists and notify their volunteer networks when help is needed.
For instance, local organizations can use text messages to notify people of volunteer opportunities, calls for donations and much more. In this case, SMS can be more effective than a mailing list because users are more likely to read the messages right away. On short notice, volunteers may not have enough time to read through their email inbox – and messages from the government may accidentally get stored out of sight in the junk folder. SMS is much more reliable.
3. Facilities Management
SMS can also optimize internal functions at government organizations, especially in regard to facilities management. Managing government assets is never a simple job, but an SMS solution can make it more efficient. SMS services allow facility managers to easily communicate with vendors and contractors, so they can move their projects forward with fewer roadblocks. The more transparent the communication, the better.
Government organizations have a responsibility to their taxpayers to run as efficiently as possible. SMS helps to achieve that goal by streamlining communication in a way that is intuitive and easy for anyone to understand. After all, finding someone who isn't familiar with texting is harder to do with each passing year.
These are just three of the myriad ways government organizations can benefit from SMS. Stakeholders can find customized solutions to their challenges by working with an SMS gateway provider.
For your SMS strategy to be truly optimized, you need a network you can rely on in any situation. To learn more about how to choose a provider, sign up for a free demo of SwiftSMSGateway.com today.
Text message has fast become the most effective way to reach the public. Recognizing this, in Canada mobile carriers have now set clear acceptance of A2P (Application to Person) 10 digit longcode traffic as separate from shortcode marketing. Rogers and Telus have introduced surcharges on this over and above their transit fees already collected, which effective immediately increases longcode costs.
Mobile carrier surcharges are effectively an admission that they want a bigger piece of this business.
Swift SMS Gateway has long been a champion of A2P longcode for non-marketing traffic and we have worked with clients to differentiate on the appropriate channel, be it shortcode, or longcode based on use to ensure your messages reach their intended audience. Despite the hype over messaging apps, SMS has enjoyed a healthy rise as the go to medium for developers in finding new and innovative ways in connecting the public, business, industry and utilities.
Reaching a Relevant Audience
It's no secret Canadians prefer to communicate via a mobile device. According to Statistics Canada, 94 percent of Canadians aged 15 to 34 owned a smartphone in 2016. Overall, 76 percent of Canadians owned a smartphone. Importantly, millennials and members of Gen Z preferred text communication over calling in 2017, according to a report from LivePerson.
These tendencies highlight an important shift in how individuals prefer to communicate. Whether they're talking with friends, or interacting with a business for personal alerts or in marketing, texting represents a form of communication that is less disruptive than other messaging platforms. Phone calls take time that texts don't require of the participant. Convenience makes text messages a viable platform beyond just marketing. It's become the preferred channel for assisting in daily scheduling and organizing personal calendars.
Whether a business is headquartered in the U.S. or Canada, it's important that the organization is able to reach audiences across Canada's vast expanses. SMS represents a simple method of communication with a high level of potential now realized in A2P longcode. However, strict regulations mean businesses need to be careful about who they message, how often they send messages and the content each message contains.
Complying with Regulations
Canada has thorough regulations on text message marketing. The basic rule is that marketers need to obtain consent from the recipient, provide identification information as part of the message and provide an unsubscribe mechanism. According to the Canadian Radio-Television and Telecommunication Commission, users may give consent in writing or orally, and it is a business' responsibility to track and record consent.
Likewise, an organization must identify itself within the message or via a hyperlink contained within the message. Additionally, an unsubscribe method ensures that the second party can withdraw consent at any time.
Technical regulations and rules apply to SMS marketing messages, but A2P personal alert traffic should not be confused with sales solicitations.
Marketers should also understand restrictions applied to long code A2P messages. Long codes are best used for low-volume communication because there is a limit to how many messages can go out each minute, which make them ideal in Canada for calendar alerts, authentication pins, and account updating. Short codes continue to be the proper channel for  marketing.
Choosing a Dependable SMS Gateway
If your organization wants to reach Canadians, it needs to invest in a reliable SMS gateway solution, especially if the application demands a local presence. Swift SMS is the ideal choice because we offer 100 percent North American, international and global SMS coverage through more than 800 carriers. Plus, our solutions comply with all regulations to mitigate your organization's risk and we have a long history and understanding in servicing the Canadian Market.
To learn more, sign up for a free demo today.